Our fleet of wedding cars include our vintage cars and Champagne Gold Modern Classic Jaguar XJ 'Winnie'. All of our vehicles are meticulously maintained and equipped with reliable heaters for the winter months. For a more unique experience, our Triumph Roadster is an excellent choice for summer weddings or ensuring that the groom arrives on time.
Grace
Indulge in the effortless luxury and comfort of our newly restored vintage Rolls Royce. Read more…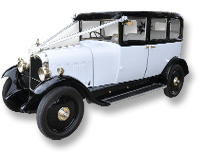 Alice
Alice, our stunning white vintage car, is versatile and can serve as the main car or be paired with Harriet for a matching set. Read more…
Harriet
With her immaculate restoration, Harriet is prepared to transport you in style and impress your loved ones. Read more…
Dorothy
Dorothy is a stunning addition to your wedding transportation options, presented in impeccable condition. Read more…
Winnie
Winnie is a stunning Champagne Gold jaguar XJ Executive. She makes a perfect main car or works equally well as a second car with Grace, our Rolls Royce. Read more…
Charlotte
Charlotte is a real showstopper, a convertible 1949 Triumph Roadster that will turn heads on your special day. Our clever contingency plan ensures that even in the event of rain, Charlotte remains an excellent choice for your wedding transportation needs. Read more…
Ensuring Reliability
We often receive this question when it comes to vintage wedding car hire, and understandably so – our genuine vintage cars were manufactured in the 1920s! However, we take every precaution to ensure that your experience is smooth and stress-free. Our comprehensive restorations and regular maintenance checks have been extremely successful over the 16 years that we have provided our cars for weddings. You can trust us to provide a reliable and unforgettable wedding transport service.
Thinking Ahead
Thanks to our thorough restorations and proven reliability, we are able to go the extra mile compared to most wedding car companies. We take these factors into account when planning your wedding transportation, ensuring that our chauffeurs can get everyone to the right place at the right time. You can rely on us to provide a punctual and dependable service on your special day.
Preserving Quality
We take great care of our classic and vintage cars by storing them in a controlled environment with dehumidified and heated air 24 hours a day. This ensures that the metal and paintwork of our vehicles do not degrade over time, preserving their beauty and elegance for your special day.
Arriving in Style & Comfort
While we pride ourselves on our thorough restorations, we understand that the interior of the wedding car is just as important as the exterior. After all, it's not every day that you get to travel in a wedding car. We want to make your experience as special as possible, which is why we ensure that the interior of our wedding cars is of the highest quality, offering comfort and luxury to our clients.
Providing the Finishing Touches
In addition to customizing the ribbons, we also love to add special touches to our vehicles to make them truly unique for your special day. From beautiful mascots on the front to personalized car names and special number plates, we offer a range of options to make your wedding car even more special and memorable. With our attention to detail and commitment to exceptional service, you can trust us to help make your wedding day unforgettable.
Covering Every Angle
At our wedding car hire company, we understand that it's the little things that can make a big difference on your wedding day. That's why we provide a range of thoughtful extras to ensure that your experience is as comfortable and stress-free as possible. We carry compact mirrors, umbrellas, bottled drinking water, and tissues (mainly for the groom!), so you can rest assured that we've got you covered. Our commitment to exceptional service means that we go above and beyond to make your wedding day truly special.
Unmatched Quality & Service
Our passion for classic and vintage cars, combined with our dedication to delighting our customers, is evident in everything we do. We take great care to ensure that every aspect of our service is just right for your special day, from the reliability and safety of our vehicles to the professionalism of our chauffeurs.
We are confident that we offer a level of quality and service that is unmatched in the industry, and we welcome the opportunity to discuss this with you at any time. Our chauffeurs have direct control over the service you experience, and we ensure that they always comply with our operational policy. You can trust us to provide an excellent service that upholds our reputation for quality.
If you would like to see our cars and discuss your special requirements with us, we would be delighted to arrange a viewing at a convenient time. Please contact us in advance to arrange a suitable time, as we would hate to be unavailable when you visit. We are confident that you will love our cars and the service we provide, and we look forward to helping make your wedding day unforgettable.